We Have the Solution
Electrolube specializes in the formulation of a specialist range of Conformal Coatings, Potting and Encapsulation Compounds, Thermal Management Solutions, Contact Lubricants, Electronic Cleaning Products and Maintenance and Service Aids. Perhaps it's time to discover how Electrolube can help you?
Electrolube Product Selector
Electrolube Product Selector Guide contains technical specifications for all the Electrolube products including conformal coating, potting resin, thermal management materials, contact lubricants and cleaning materials. Find out which product is best for your application.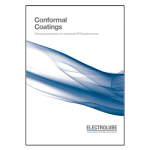 Conformal Coating
Conformal coatings are designed to protect printed circuit boards and related equipment from their environment. Typically applied at 25-75μm, these coatings conform to the contours of the board allowing for excellent protection and coverage, ultimately extending the working life of the PCB.
Thermal Management
During use, some electronic components can generate significant amounts of heat. Failure to effectively dissipate this heat away from the component and the device can lead to reliability concerns and reduced operational lifetimes.
Encapsulation Resins
Resin systems are designed to protect and insulate printed circuit boards (PCBs) and electronic components from the threats of harsh and challenging environments, including; moisture, vibration, thermal or physical shock and general contamination. By encapsulating the entire device, resins can form a complete barrier against such environments offering superior performance under extreme conditions.
Maintenance and Service Aids
Electrolube manufactures a wide range of maintenance products to complement the major product groups. Whether used by OEMs or subcontractors, these products are supplied in convenient packaging, covering a wide range of applications and requirements.
Contact Lubricants
Contact lubricants are specially formulated greases and oils that reduce friction and enhance the electrical performance of current carrying metal interfaces in switches and connectors. Electrolube products are electrically insulative in thick films, preventing tracking in ultra thin films, i.e. between closed metal contacts they allow the current to flow, owing to the 'Quantum Tunnelling Effect'. They also exhibit a neutral pH thereby avoiding surface corrosion.
Electronic Cleaning
There are many stages where cleaning is required; prior to stencilling and soldering in order to remove contaminants from the many previous production stages, after stencilling to remove excess solder paste/adhesive and after soldering to remove corrosive flux residues and any solder balls.
LED A Leading Light
With our expansive range of products and a thirst to push what's possible, there is no end to the applications of electro chemical solutions; including our contributions towards improved capabilities within the LED industry.
Automotive Performance
The usage of automotive electronics appears set for continuous development as consumers demand ever more performance, safety, comfort, convenience and entertainment from their vehicles. Systems are being developed that will do more to avoid accidents, protect and entertain occupants and reduce the environmental impact of the journey. With electronic systems often exceeding 20% of the total vehicle value and vehicle warranties typically offered for 5 to 7 year durations, reliability of these electronic systems is vital.