RTV Silicone Rubber for Electronics
Silicone is used for potting and encapsulation of bonding wires and other components of power semiconductor modules. Silicone protects electronic parts from stress and is effective across a wide temperature range.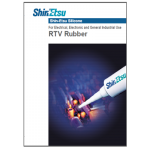 RTV Rubber General
General use RTV rubber in liquid or paste form, has been developed primarily for gluing, sealing and potting of electrical and electronic equipment.