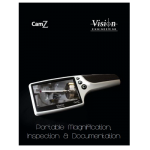 CamZ
Suitable for production environments, CamZ provides high resolution magnification (up to 14x) and documentation, where you want, when you want.

EVO
Full-HD live video imaging (1080p/60fps) brings to life a macroscopic world in stunning detail, with magnification options up to 300x and full auto focus to ensure ultra-sharp imaging at all times. Capture full-HD images at the touch of a button (without a PC).
Lynx
The Lynx stereo microscope utilizes Vision Engineering's patented Dynascope technology. Dynascope technology offers the user advanced ergonomics by removing the need for restrictive eyepieces.

Mantis
As comfortable as a bench magnifier, with the power of a stereo microscope, the Mantis' unique eyepiece-less design is at the heart of the Mantis advantage. From this, a stunning 3D macro world opens up to the user.

VisionZ
With VisionZ, it is all about the exceptional HD image, and the high quality, ergonomic design. It's all packed into a compact, lightweight unit, making VisionZ highly portable and easy to use.